As the season changes from winter to spring the signs summer will be upon us are evident. This means many cyclists are unleashing themselves from the indoor trainer and hitting the road. Training alone out on the road is valuable to fitness goals but when the hammer goes down in races and events, riding in a group is an essential skill. If you have never ridden in a group here are some seasoned tips that will make the group ride more fun and exciting.

You may find many group rides on MeetUp, FaceBook (Shop rides), Strava and many other sources. Be sure you read and understand what the listing means. When living out west in Wyoming, Colorado and Utah rides were listed by skill level.

A-20+ Mph Av.
B-18-22 Mph Av.
C-16-18 Mph Av.
D-11-15mph Av.

Since moving to Pennsylvania, I have been surprised to find that this universal listing is not common. Some rides are written in a general manner citing good fitness required. Some have obscure names like Book Club, Garden Club, Stamp Club and so on. The key to reading these types of listings is to look at terminology added to the listing.

Race Practice Ride, Drop Ride, No-Drop Ride, 20-22mph, 18-22, .etc

Read the details so that you know what will be expected.  Frankly, the expectations of fitness, speeds and abilities  are no joke and one needs to be able to hold these abilities to have a successful group ride.
Ride leaders are responsible to post the route with turn by turn GPS, TCX or FIT files. Upload this to your GPS Unit before you leave home.

Race Practice Drop ride means that you will be practicing race skills on a set course that usually runs weekly. You, as the rider will need to have a GPS unit with the route mapped so that if you do get dropped you can get back to the start at your own pace. Its best to get subscription to Ride with GPS, or Komoot. Some rides use TCX while other use Fit or GPX file extensions. If you notice the map you downloaded does not show turn by turn, take time to re-create the route on your software.

Race Practice No-Drop ride means it will be FAST and have ONE place everyone will regroup. It is advised you have a GPS unit to get home in case you have bad legs that night. No one wants to wait longer than 15 minutes at the regroup point. This can severely affect the legs. The goal again here is that is for RACE pace practice.

If race practice rides are outside of your ability alone, then it is wise to not join these rides. You are not ready. At these high paces your group skills will matter in tandem with your fitness. Instead, join a ride that has appropriate ability levels for your skill set. Know the rules for regroups, no drops, and practice group skills at a slower pace.

What skills should one learn when out on a group ride at that meets your pace and fitness levels?

• Pace Line: This is a line of riders that over the course keeps the pace nice and even. Get comfortable being close to riders and learn which ones to trust.
i) Practice riding side by side where and when possible. I ride with my wife frequently enough to get her vibe and learn her tendencies. Apply this to your riding partners and learn their skills as much as your own.
ii) Always know where riders are around you. DO NOT overlap your front wheel with another riders back wheel. If you touch, wheels, the front wheel rider will go down hard, possibly causing a crash for everyone else. Be nice, but be smart, Do NOT overlap.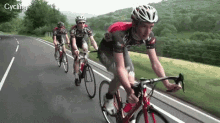 • Drafting: This is a way to save energy when not in the lead. Make no mistake the entire line is still putting down the power.  Usually there is a set time expectation for each person to hold the MPH of the group as the lead or one puling. For instance, if someone sets 1 minute pulls, each person rotates to the left of the line after 1 minute of pulling (being the rider in the lead). After your pull, be ready to drift back. Keep pedaling enough as the line passes you so that when you tuck in the back of the line you are still staying with the group. Otherwise, you will shoot off the back and riders with this better skill will pull into line earlier and in front of you.
i) It is vital that the person pulling maintains the established speed. When you are second wheel, you will tend to slingshot when the rider in front of you pulls off. Anticipate this inertia by keeping the tempo in your pedals. It should feel connected in both feet with no soft pedaling.
ii) Be sure to look at your head unit and maintain the speed set. If you do sling shot ahead soft pedal back to the speed set by the group.
iii) ALWAYS keep pedaling. Pedaling at different power and cadences helps one to become smoother the more you get used to riding in a group.
iv) If you feel tired, you may pull off early, but signal by flicking your left elbow so the rider behind you knows they are going sooner than the time allotment.
v) Always look through the shoulders of the riders in front of you.
DO NOT stare at the wheels of the bike in front of you, you will likely cause a crash if you do. If the pace changes due to strong wind or a road hazard you are responsible to adjust your speed and line by seeing down the road to the front of the pack.
vi) If you cannot hold the speed set, tell someone, be humble and let the group go. Ride back alone or with a friend, but do not cause a group to miss the race training goals of the ride. It happens to all of us at some point. Don't be the one who ends up ruining the fun of the others ready to roll.

• Signal road deficiencies. If you are the lead rider point out holes PRIOR, to getting to the hole. The signal is not an invitation for everyone to hit the hole! Signal and dodge the hole with enough time for team mates to do the same. Everyone signals the hole or other road imperfection so that nobody has a jarring experience.


• Call out other traffic. As the law states in many areas cyclists may take the full traffic lane. However, as a courtesy, always call out if a vehicle is approaching from behind the pack. "Car Back." "Car left/right" (Intersections) "Car Up". This ensures that members of the pace-line do not rotate off and into a passing car. Call out passing when you hear and see the car going around the pace-line. Stay in place and call "clear" when the vehicle is past. I also call out the number of cars. "Car Back, 3" that way we can the group can anticipate pace changes while the cars pass. Resume the rotation of the line after the lanes is clear.

• Climbing. Stay with the group on punchers and anything rolling by adjusting your power to hold the established speed. Climbs steeper than 4% or longer than 1 minute will not benefit much from drafting unless the headwind is high. Instead of thinking about drafting, use riders of similar ability to pace one another up longer climbs. It is likely that this will be where drop rides, drop riders. Accept it and ride home. On no-drop rides, regroup at the top of the hill if the pave' levels out for a bit after the climb. DO NOT REGROUP at the top if the hill peaks and descends immediately. Rather wait until everyone gets over and down the other side to regroup. It is not good for the legs to work hard, stop, and then descend since there is no reason to descend as a group if it blew apart on the climb.
• Descending. This is a skill that takes time to learn, and should be learned when out solo. If you are unable to follow the ebb and flow on a descent, pull out of the pace-line and take the descent on your own. Catch up to the group or wait for the group (if a fast skilled descender) and resume the agreed upon pace. If the ride will again reach for the sky, shift to a gear you can maintain prior to hitting the the following climb. Being in a big gear will stall a rider mid-hill causing chaos through the group often forcing people into unsafe traffic.

• Be able to eat/drink on the move. Bring enough calories/carbs to support the intensity and energy needed to complete the ride at the pace set. Pre-cut your wrappers before you begin. Preload with a carbohydrate rich meal for ALL rides, whether solo or with a group. Your body weight, FTP, and general fitness will determine your needs. I like oatmeal in the morning about 2 hours before the ride. If the ride is in the evening, I eat oatmeal for breakfast, and chicken, rice and veggie stir fry for lunch. Right before the ride I add Ghost pre-workout mixed with UCAN super starch. On the ride bring more than enough food and make a strategy for when and how much you will eat. Always eat and drink. Running out of energy is a real bummer, but not the concern of the group. Stopping to eat is annoying to the group. Riders are there to ride not dine at the side of the road.

• Safety. Assuming your bike is clean, the drive train clean and lubed, brakes work and you have a helmet, Bring your phone, tire repair kits and a multi-tool. If something happens you will have friends to help you, but do not rely on their kindness to loan you a tube. I ride 100% tubeless and have not flatted on the road once in 3 years, and I still have a tube and levers to get me home. If you ride with Wahoo, Garmin or Karoo, send that safety link to someone not on the ride.


i) Never show up to a group ride on a Time Trial bike or a bike with bar extensions. It is not safe because the TT position or riding with extensions means you have less control of your bicycle. Skilled riders will most likely ride away or allow that person to ride solo in front of them to avoid the inevitable crash. Ride descriptions will usually state no bar extensions or TT bikes. Respect your friends and follow the rules.


Fun drills on group rides:

1. Attacks of the front. Be sure you have the guts to ride people into the ground because this is a chase game. After settling into a pace-line for a good 20 minutes the first rider accelerates as hard as possible for 10 solid pedal strokes. The riders behind may or may not chose to chase them down. When caught the attacking rider goes to the back while the pace resumes. Rinse and repeat! Be careful of traffic and DO NOT cross the yellow line.
2. Attacks from behind. After settling into a pace-line for a good 20 minutes; Riders attack the group on the left and go full throttle until a gap is formed. When caught the attacking rider goes to the back while the pace resumes. Rinse and repeat! Be careful of traffic and DO NOT cross the yellow line.
3. Team Time Trial. Set the pace and do not break it for the majority of the ride. Riders agree to rotate to the front for a set number of minutes. If you get dropped, you regroup at the meeting place.
4. Moving to the front. This is a race tactic, over the time of the ride, how many handlebars can you pass? Work into the group and go again.
5. Sag Climbing. Holding the speed of the group move to the front and set a high pace into the climb. Climb hard while holding the pace while lighter/better climbers go by. DO NOT stop pedaling at intensity. Let the group dynamic settle and go again when appropriate on the next climb.
6.  . Be able to keep the pace and hand a bottle to a rider and then back. Done side by side.

Cycling is fun and can be great with mates. Keep these rules of group riding in mind and enjoy riding with your club or team. Be honest about your skill set and know your limits.



Jim Colonna, BMV Secretary